Continuous Pressure-Flow® Cooker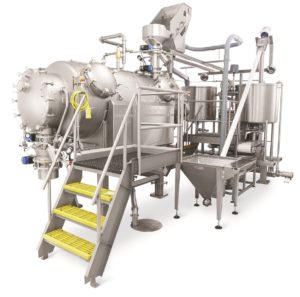 Lyco brought the CONTINUOUS PRESSURE-FLOW® COOKER to market in 2007. In response to customer demand, in 2017 we expanded our laboratory and installed a complete operating system including:
A feed conveyor
A soak tank
A pump line
A 30″ Pressure-Flow Cooker
Dewatering screen
Vibrating dewatering shaker
We have run hundreds of successful tests on dry beans, rice and more. Food processors have always been impressed by our solution:
"The dry beans are pre-soaked for just 2-4 hours. Lyco's Pressure-Flow Cooker fully cooked our beans in 6 to 8 minutes to IQF Quality. Amazing!". (Note: Retorting is not required.)

"Rice is cooked to perfection, has the right texture, holds more starch, and saves water", This will change the industry!".
CONTACT US to run your products in our laboratory and demonstrate the dramatic difference to you.