Pressure-Flow® Can Produce Fully Cooked Dry Beans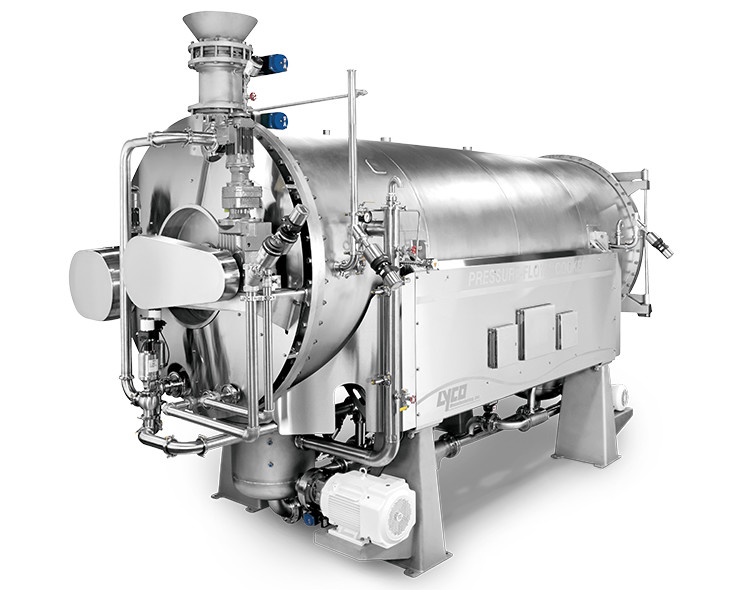 Reduced Cook Time and Reduced Footprint
The Pressure-Flow® Cooker was designed to reduce process times, hydrate, par-cook or fully cook dry beans, rice, other grains and other food items in a continuous first-in/first-out method. Dry bean applications have shown the following BENEFITS:
ELIMINATES RETORTING
SIGNIFICANTLY HIGHER YIELDS
BETTER QUALITY
BETTER TEXTURE
SIGNIFICANTLY LESS LABOR
INCREASED PRODUCTIVITY
LESS WATER USAGE
REDUCED WASTE WATER
Suggested Applications
◀
▶
How it Works
Product is continuously fed into a valve arrangement on a first in / first out that allows product to enter the pressure vessel while maintaining less than 15 PSI of pressure in the cooker. Cooking under pressure achieves elevated temperatures of which a faster cook is only one of many benefits. Product is processed submerged in water while being gently agitated by Lyco patented Hydro-Flow® technology. Agitation suspends the product in motion which has every particle being treated exactly the same. Product is continuously discharged from the pressurized process chamber through a valve arrangement similar to the in-feed valve system.
Benefits
A Fully Cooked Product
Higher IQF Quality
Better Texture
Higher Yields
A Faster Cook
Higher Productivity
Lower Water Usage
Less Waste Water
Features
Fully automated CIP
PLC — Recipe controlled process
95% Automated Cleaning/Sanitizing
Rugged Reliable Design