Continuous Pressure-Flow® Cooker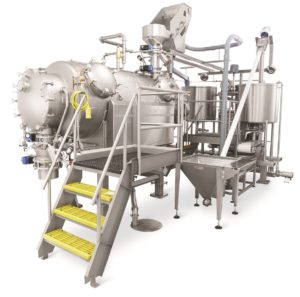 In 2017 we installed a CONTINUOUS PRESSURE-FLOW® COOKER operating system in our laboratory. It includes: A Feed Conveyor, Soak Tanks, Dewatering Belt, Pump Line, a Screen, a 30″ Pressure Cooker and a Vibrating Dewatering unit (not shown).
We have run hundreds of successful tests on dry beans, rice and more. Every food processor who has seen the line run has been very impressed. One called it a "GAME CHANGER that will be the way we process dry beans in the future."
Dry Beans are pre-soaked for 2 to 4 hours and fed into the Pressure Cooker where they are fully cooked in 6 to 8 minutes. The result is IQF Quality product and retorting is not necessary. A major processing step eliminated for dry beans.
Rice is cooked to perfection in 5 to 8 minutes, is pure white, has the right texture, and holds more starch which increases recovery. Every customer who has seen the process has been impressed.
CONTACT US to run your products in our laboratory and see the dramatic results for yourself.