Pressure-Flow® Makes Fully Cooked IQF Quality Product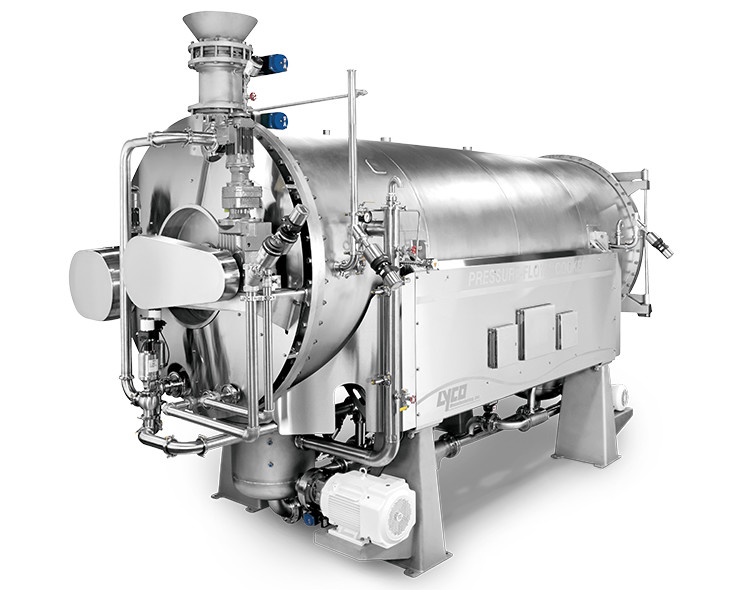 Pressure-Flow® Can Eliminate Retorting
The Pressure-Flow® machine was specifically designed to hydrate, par-cook or fully cook dry beans, grains and other particulates, offering processors a continuous first-in/first-out pressure cooker.
Suggested Applications
◀
▶
How it Works
Product is continuously fed through a valve arrangement that allows product to enter the pressurized vessel while maintaining pressure in the cooker. Processing under pressure achieves elevated temperatures which provide many benefits to the product. A faster cook is only one benefit of many. Product passes through the machine on a first-in/first out way submerged in water and suspended in motion by Lyco's patented Hydro-Flow technology which gently exposes each particle of food to the same treatment. Product exits the pressurized chamber through a valve system similar to the infeed. This patented design utilizes Lyco 's new Clean-Flow® system inside the pressure vessel which has a faster more thorough Clean-in Place system contained within it. The process time, temperature, water level, along with all other process conditions, are controlled by a PLC process management system.
Benefits
A Faster Cook
IQF Quality Product
Better Texture
Increased Yield
Humus Friendly
Uses Less Water
Reduces Waste
Saves Labor Hours
Increases Productivity
Very Fast Return on Investment
Features
Operates Under 15 PSI
PLC Controlled
Clean-Flow CIP System
95% Self Cleaning