SANITARY CONTINUOUS ROTARY DRUM WATER BLANCHER
LYCO BLANCHERS USE LESS ENERGY, LESS WATER AND PROVIDES HIGHER QUALITY IN A SMALLER FOOTPRINT
There are more than 450 Lyco Rotary Drum Blanchers and Coolers in use worldwide used in a wide variety of applications. They are the most advanced, state-of-the-art machines in the world. Our rotary drum machines increase capacity, reduce process times, eliminate under-cooking and over-cooking.
Lyco's Rotary Drum Blanchers have many features that reduce costs, save time and improve quality:
• Precision manufacturing results in lower equipment maintenance costs
• Trunnion designs eliminate shaft breakage
• Gentle agitation reduces losses from pasta clumping by 10% to 15%
• Ideal for high volume applications
• Higher capacity in a smaller footprint
Request a Virtual Demo
"In 1985 Lyco pioneered and developed the first larger 60" diameter trunnion/wheel supported blanchers. Prior to 1985 all blanchers were 48" diameter shaft blancher designs and eventually failed. Over time Lyco increased the diameter to 72" diameter and up to 24 feet in length. Today Lyco blanchers are the most rugged, sophisticated, and energy efficient rotary drum machines in the world.
Dave Zittel | Chairman of the Board



LYCO ROTARY DRUM BLANCHER BENEFITS
Larger diameter blanchers and our agitation increases capacity and ensures uniform results.
• Throughput 50% higher than competition
• Precisely controlled retention time, from 2 to 60 minutes
• Uniform temperatures ensure optimal quality
Questions? Click Here or Call 920-623-4152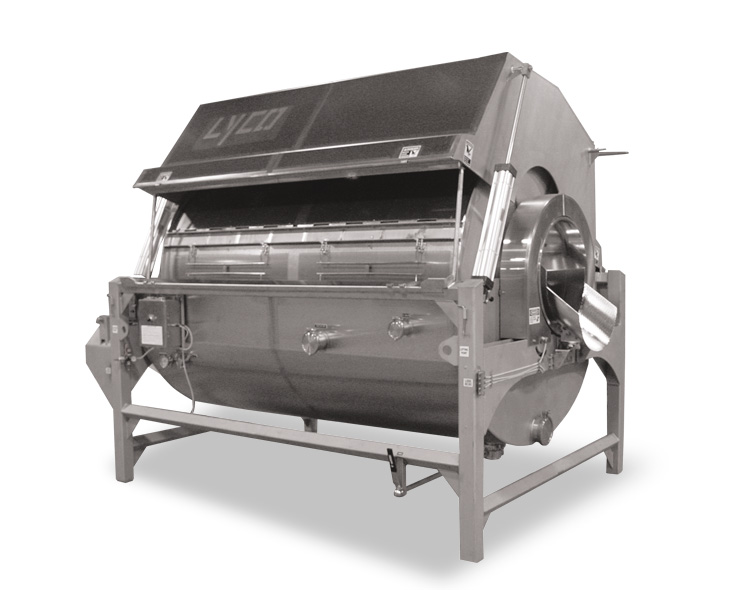 APPLICATIONS OF LYCO'S ROTARY DRUM WATER BLANCHER


LYCO MANUFACTURING - MADE IN THE USA
Lyco was founded in 1980 by the owner and Chairman of the Board, David R. Zittel, who has had over 50 years experience in food processing. Lyco prides itself in the longevity of its associates and is measured with many decades of experience with food processing machinery. We're located in a community of 5,000 people which is 25 miles northeast of Madison, WI, a perfect area to raise a family.

Lyco's enjoyment and passion is developing the best customer-aligned, innovative food processing machinery in the world.
HOW IT WORKS
Product moves into the blancher through a gravity chute or a water-cushioned in-feed flume. Product can be blanched, cooked or rehydrated. Product is then discharged through a chute for further processing.
A VARIETY OF SIZES WITH ONE GOAL: BEING THE BEST
Rotary Drum Blanchers and Cookers operate with direct steam. They are made in 36 in. (91.44 cm), 48 in. (121.92 cm), 60 in. (152.4cm) and 72 in. (182.88) diameters. The lengths range from 4 ft. (1.22 m) to 28 ft. (8.53 m). All of them deliver:
• Easy-to-clean sanitary construction for faster changeovers
• Uniform heating and cooling thanks to gentle agitation
• Higher capacity in a smaller footprint
Explore All of Our Blanchers