COMBINATION COOKER-COOLER
ROTARY DRUM COOKER COOLERS INCREASE YOUR ROI WITH USING LESS FLOOR SPACE, LESS MACHINERY, AND FASTER CLEANING
Blancher/cooker-coolers were first designed in 1995 for cooking and cooling pasta, rice and vegetables. They have lower maintenance costs with a smaller footprint. The basic process differences between a blancher, cooker or pasteurizer are retention times and operating temperatures.
Lyco's Cooker-Cooler is the only combination rotary drum cooker-cooler in the world, features are:
• Cook and cool in one machine
• Smaller footprint eliminates transfer conveyors, and riser frames
• The single CIP System cleans both hot and cold zones
Request a Virtual Demo
"We researched and did test runs with a number of different cook-and-cool systems. Our decision was to select a continuous combination rotary drum from Lyco Manufacturing."
Michael Savignano, Jr. | VP Director of Sales & Marketing



LYCO COMBINATION COOKER-COOLER BENEFITS:
• Uniform process results with 5-15% yield increase
• Lower initial cost and reduced maintenance
• Perfect gentle agitation eliminates pasta sticking losses
• Space saving and energy efficient
Questions? Click Here or Call 920-623-4152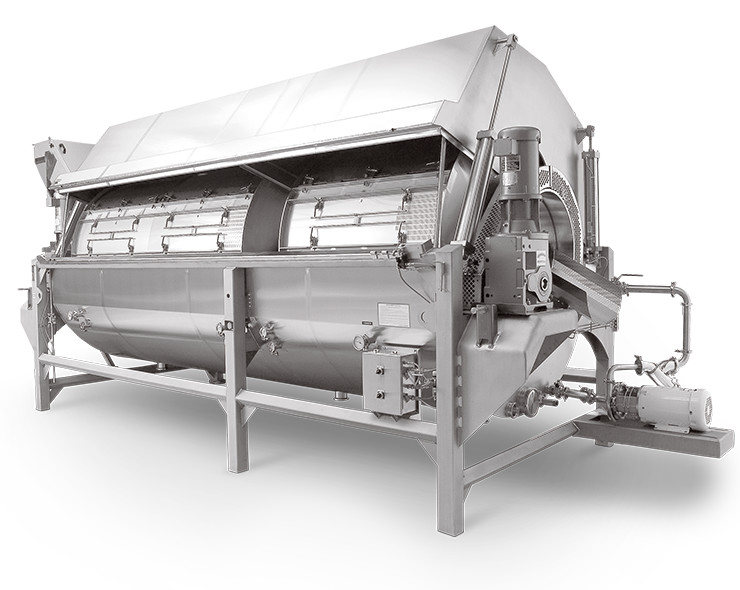 APPLICATIONS FOR LYCO'S ROTARY DRUM BLANCHER/COOKER/COOLER


LYCO MANUFACTURING - MADE IN THE USA
Lyco was founded in 1980 by the owner and Chairman of the Board, David R. Zittel, who has had over 50 years experience in food processing. Lyco prides itself in the longevity of its associates and is measured with many decades of experience with food processing machinery. We're located in a community of 5,000 people which is 25 miles northeast of Madison, WI, a perfect area to raise a family.

Lyco's enjoyment and passion is developing the best customer-aligned, innovative food processing machinery in the world.
HOW IT WORKS
Product is fed into the machine by a chute or water cushioned in-feed flume (1). The Cook Zone (2) blanches, cooks, or re-hydrates, and very gently agitates as it passes through the machine. Product then transfers to the cool zone (3), using chilled water product exists at 40ºF (4.4ºC) and discharges from the machine with a gravity chute (4).

The two-way flip top cover (5) can be lifted either side by simple air cylinders for easy access for cleaning.
LYCO COMBINATION COOKER-COOLERS INCREASE PRODUCTIVITY AND RECOVERY WITH LOWER OPERATING COST
• Agitation increases capacity by up to 50 percent and reduces losses from pasta clumping and sticking by 10 percent
• Lower maintenance costs come from fewer moving parts, precision manufacturing, and quality materials
• Trunnion designs eliminate cylinder shaft breakage
• Cylinder designs result in zero leakage
Questions? Click Here or Call 920-623-4152