WATER REUSE SYSTEM
DRASTICALLY REDUCES WATER USAGE
Lyco's Water Reuse System drastically reduces water usage and can save up to 15 million gallons per year in poultry plants. This revolutionary system removes solids so water can be re-used and sent back for prior processing steps. The system's small footprint makes it ideal for many water reuse applications.
• Wastewater filtered through Lyco's Zero Maintenance screen and two automated canister filters and pumped back for reuse in processing
• PLC controls
• Covers open for full access for sanitation, with CIP spray balls
Request a Virtual Demo
"With this Sanitary Zero-Maintenance Screen and Secondary Self-Purging Dual-Cannister Filtration system alone, we are saving 220 GPM of water. That is 1.2 million gallons of water saved weekly, and more than 62 million gallons saved over 12 months. Lyco has proven to us that their equipment is the best in the industry for poultry liquid-solids separation and water reuse."
Matt Schoup | VP Operations



LYCO'S ADVANCED FILTERING SYSTEM
Lyco's Sanitary Zero Maintenance Screens with an advanced filtering system makes it the best water reuse system in the industry. The Dual Canister Water Filtering System takes prescreened water at a rate of 50 to 400 GPM from other applications. The two canister filters remove more solids, making the water clean enough to be used a second time.
Questions? Click Here or Call 920-623-4152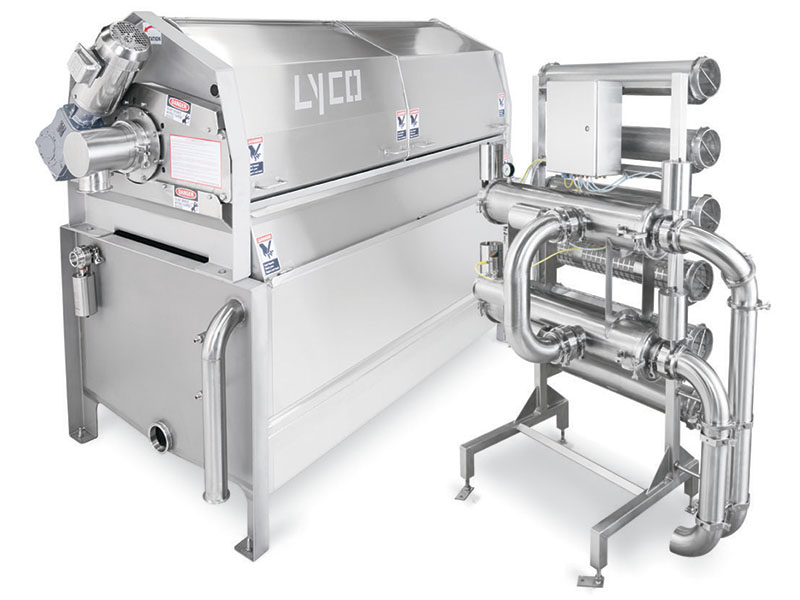 APPLICATIONS OF LYCO'S WATER REUSE SYSTEM


LYCO MANUFACTURING - MADE IN THE USA
Lyco was founded in 1980 by the owner and Chairman of the Board, David R. Zittel, who has had over 50 years experience in food processing. Lyco prides itself in the longevity of its associates and is measured with many decades of experience with food processing machinery. We're located in a community of 5,000 people which is 25 miles northeast of Madison, WI, a perfect area to raise a family.

Lyco's enjoyment and passion is developing the best customer-aligned, innovative food processing machinery in the world.
STAY AHEAD OF IMPENDING WATER REGULATIONS AND SAVE ON WATER AND LABOR EXPENSES
A 200 GPM saving can return more than $150,000 a year.
REDUCE WATER USAGE WITH LYCO'S WATER REUSE SYSTEMS
Lyco's Water Reuse System will save millions of gallons of water per year and provides a cost-effective way to meet sustainability goals and provides low maintenance costs.
• Sanitary, easy-to-clean design
• Smaller footprint ideal when production space is limited
• Rapid filter change and auto pressure purge options
• Change plugged filters on the fly
• Fully-automated system changes filters automatically
Explore All of Our Wastewater Screens