VAPOR-FLOW® CONTINUOUS STEAM BLANCHER
USES 50% LESS ENERGY AND 90% LESS WATER
Lyco Vapor-Flow® Continuous Steam Blanchers guarantee less damage, less energy, less water and less waste. Easily change from steam to water blanching by simply turning a valve and draining the water from the tank. Water blanching effectively hydrates products, while the steam option leaches out fewer solids and nutrients and helps you increase recovery by 1 to 3%. Our continuous steam blanchers deliver:
• Flexibility to heat with steam or water – rapid change-over with the flip of a valve
• First-in/first-out product stream – guarantees uniformity, unlike belt systems
• High-capacity throughput in less floor space – 50% less than belt cookers
Request a Virtual Demo
"We replaced 200 feet of steam belt blanchers with only 32 feet of Lyco Rotary Drum Vapor Flow Blanchers."
Spinach Processor



HOW IT WORKS
Product enters through a gravity chute or an in-feed flume. It is then transported through the machine by an auger covered with perforated screens. We leverage our knowledge of blanching and cooking to ensure a thorough and uniform process with less damage, using less energy, less water and less waste. Lyco has made over 800 rotary drum blanchers, cookers and coolers since 1985. We are world-wide industry innovators for heating and cooling pasta, rice, dry beans and vegetables.
VAPOR-FLOW STEAM BLANCHER BENEFITS
• Steam increases recovery 1.5% to 3.0%
• Process results are more uniform than belt cookers
• Reduce energy consumption — steam option uses 90% less water
• Unlike belt systems, uniformity is guaranteed
Questions? Click Here or Call 920-623-4152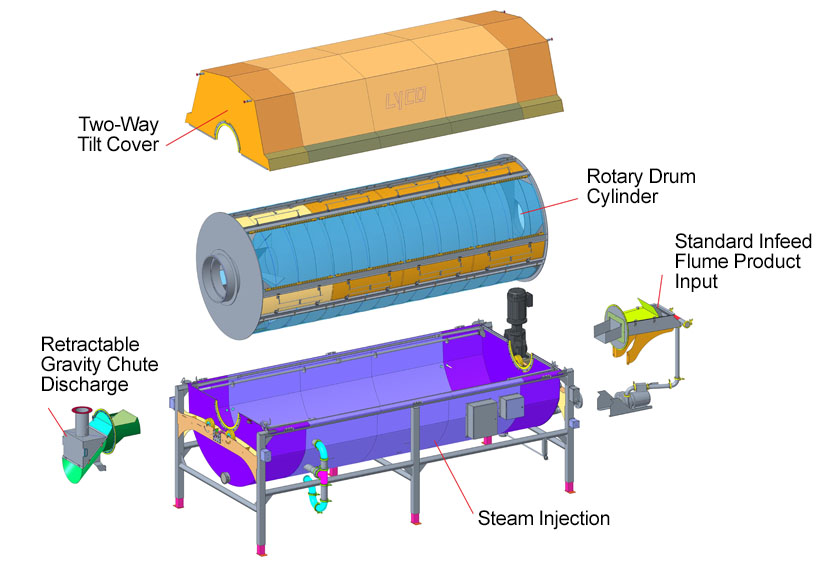 APPLICATIONS OF LYCO'S VAPOR-FLOW STEAM BLANCHER


LYCO MANUFACTURING - MADE IN THE USA
Lyco was founded in 1980 by the owner and Chairman of the Board, David R. Zittel, who has had over 50 years experience in food processing. Lyco prides itself in the longevity of its associates and is measured with many decades of experience with food processing machinery. We're located in a community of 5,000 people which is 25 miles northeast of Madison, WI, a perfect area to raise a family.

Lyco's enjoyment and passion is developing the best customer-aligned, innovative food processing machinery in the world.
REDUCE LOSSES AND INCREASE PROFITABILTY
Lyco Vapor Flow Steam Blanchers act as a business savings account. They reduce energy consumption and water usage, and increase recovery by up to 3%. Over the life of the machine, this significantly reduces your Total Cost of Business (TCOB) and improves your profit margins.
6 REASONS TO CHOOSE LYCO'S VAPOR-FLOW STEAM BLANCHER
Since 1985, Lyco has made more than 800 rotary drum blanchers, cookers and coolers. Six reasons to consider a Lyco Vapor-Flow Steam Blanchers versus a water blancher or steam belt blancher:
1. 1-3% higher recovery over water blanching
2. 90% less water usage than water blanching
3. Better quality, color and flavor versus water blanching
4. Less maintenance than steam belt blancher
5. Half the footprint of a steam belt blancher
6. More sanitary compared to a steam belt blancher
Explore All of Our Blanchers