POUCH PROCESSING MACHINERY
COOL TO 40°F IN HALF THE TIME OF BELT SYSTEMS
Pouches are becoming increasingly popular due to their convenience, portability, and low environmental impact. Food and beverage markets account for 80% of the total demand for flexible pouch packaging. Lyco can help you cool a wide range of food products including spices, sauces, soups, fruit, vegetable snacks, condiments and desserts.
Pouches may vary from a few ounces to more than 10 lbs. and, in every case, rapid cooling to the core is important. Lyco improves food safety by getting pouched food to 40°F twice as fast as conventional belt coolers or static water tank designs.
Questions? Click Here or Call 920-623-4152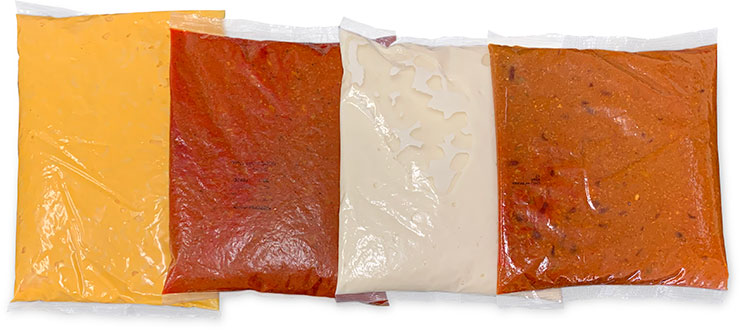 "We partnered with Lyco because of its expertise with food processing, and particularly with pouch cooling. Lyco has an R&D facility within its manufacturing plant that accurately predicts heating and cooling of pouched products. As engineers, we appreciate the process cooling data they are able to provide after running tests. It greatly helps us to optimize systems specific to each company."
Gene Scherr | President

A SOLUTION FOR EVERY POUCH PROCESSING NEED
Due to gentle Hydro-Flow® agitation, Lyco's Rotary Drum Coolers are much more effective than belt systems and static cooling tanks of water because of agitation. During our patented cooling process, pouches enter and exit the cylinder in a first-in-first-out manner.
During transit through the machine, our unique agitation system gently stirs the pouches to ensure thorough and uniform results. Cooling times are reduced by 40% to 50%, which delivers huge gains in food safety and processing productivity.
Pouches
LYCO MANUFACTURING - MADE IN THE U.S.A.
Lyco was founded in 1980 by the owner and Chairman of the Board, David R. Zittel, who has had over 50 years experience in food processing. Lyco prides itself in the longevity of its associates and is measured with many decades of experience with food processing machinery. We're located in a community of 5,000 people which is 25 miles northeast of Madison, WI, a perfect area to raise a family.

Lyco's enjoyment and passion is developing the best customer-aligned, innovative food processing machinery in the world.
IMPROVING THE POUCH PROCESSING DEMAND
As the demand increases and the market for pouched foods continues to grow, Lyco has the Pasteurizers, Cookers and Coolers for processing your pouched products.

The global market size for pouched food was valued at $36.44 billion in 2020. It is expected to grow at a compound annual growth rate (CAGR) of 5.5% from 2020 to 2028.
TECHNOLOGY, EQUIPMENT AND PEOPLE THAT REALLY WORK
Lyco technology can help you increase capacity and productivity while improving your ROI.
Lyco equipment delivers sanitary designs and efficient operation to provide a low-maintenance unit that is easy to clean and simple to use.
Lyco personnel can provide you with a pouch-based solution that addresses your needs.
Read Customer Testimonials