STATIONARY SCREEN
HAVE NO MOVING PARTS. SIMPLE, RUGGED DESIGNS LAST FOR MANY DECADES.
Lyco Stationary Screens de-water incoming vegetable raw products, or perform rough screening for peas, green beans, cut corn, potato or meat waste. We use customers flow rates, screen openings, and size of particles to be removed. We size screens for the line flow rates as well as days end higher clean up volumes.
• 600 successful Stationary Screen installations
• Wedge-wire design is more structurally sound and less likely to plug
• Sanitary construction and easy-to-remove tilt out screen for quick and easy clean up
• High-quality craftsmanship guarantees long life and performance
Contact a Sales Rep
IN-FEED ARRANGEMENTS
Solids and water enter the headbox. Water can enter left, center or right. The filtered water passes through the screen, leaving the solids to pass over the screen. Product then exits the front of the unit, ready to enter the next stage of processing.
Fitting choices: straight tube, pipe, flange and sanitary
Questions? Click Here or Call 920-623-4152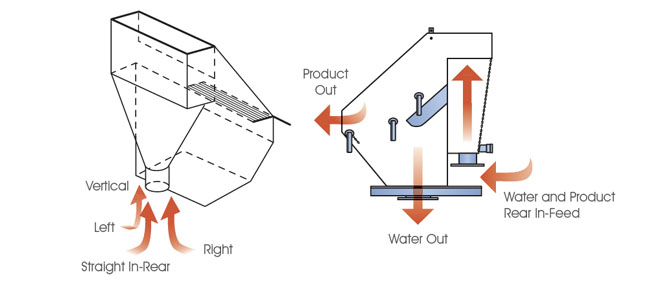 APPLICATIONS OF LYCO'S STATIONARY SCREEN


LYCO MANUFACTURING - MADE IN THE USA
Lyco was founded in 1980 by the owner and Chairman of the Board, David R. Zittel, who has had over 50 years experience in food processing. Lyco prides itself in the longevity of its associates and is measured with many decades of experience with food processing machinery. We're located in a community of 5,000 people which is 25 miles northeast of Madison, WI, a perfect area to raise a family.

Lyco's enjoyment and passion is developing the best customer-aligned, innovative food processing machinery in the world.
SELECTING THE PERFECT SCREEN FOR YOUR FLOW RATE
Successful screen installations are achieved by working closely with our customers to determine the right size screen for your water flow rates, and then using the right size screen spacing for the type of solids to be removed. If there will be increased flow rates and solids at the end of the day, screens can be sized for optimum clean-up during those times.
ENHANCED CAPABILITY AND WEDGE-WIRE SCREENS
The curved main screen tilts open for cleaning both sides. Lyco's precision manufacturing improves efficiency and longevity.
Wedge-wire screens are made of triangular shaped wires in cross section. The particles that pass between adjacent wires are less likely to cause it to plug.
Explore All of Our Wastewater Screens