SEALED ENCLOSED DRUM SEPARATOR
CONTROL TEMPERATURE, IMPROVE LIQUID RECOVERY AND CONTAIN ODORS IN A SMALLER FOOTPRINT
The Lyco Sealed Drum Separator is perfect for rendering operations. These systems efficiently separate oil and solids after cookers which produce superior crax to the presses versus perk pans. This creates rich granular meal for animal feed or other industrial use.
Request a Virtual Demo
"The Lyco Sealed Drum Separator was designed for rendering applications to separate oil from solids after the cookers. We use unique agitation to turn over the product while it rotates through the screen, providing better and more efficient separation."
Jeff Zittel | Vice President



CAPTURE MORE SOLIDS AND INCREASE PRODUCT RECOVERY
Wedge wire screens capture more solids with .020″ spacing than round hole perforated screens. This reduces insoluble impurities and avoids screens and other equipment further down the processing line.
Questions? Click Here or Call 920-623-4152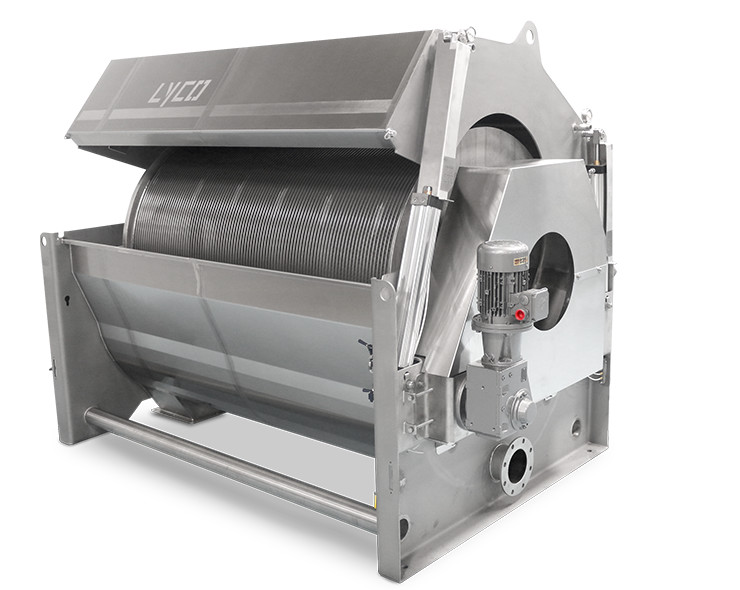 APPLICATIONS OF LYCO'S SEALED DRUM SEPARATOR


LYCO SEALED DRUM SEPARATOR - RENDERING OIL SEPARATION
Lyco sealed drum separators come in (4) different sizes for handling 15,000 to 45,000 PPH for oil recovery and odor control.
Poultry Screen Detailer
LYCO MANUFACTURING - MADE IN THE USA
Lyco was founded in 1980 by the owner and Chairman of the Board, David R. Zittel, who has had over 50 years experience in food processing. Lyco prides itself in the longevity of its associates and is measured with many decades of experience with food processing machinery. We're located in a community of 5,000 people which is 25 miles northeast of Madison, WI, a perfect area to raise a family.

Lyco's enjoyment and passion is developing the best customer-aligned, innovative food processing machinery in the world.
HOW IT WORKS
Lyco's Sealed Drum Separator is designed for rendering and specialty applications like wine must. Effluent enters the sealed drum separator in a continuous flow. Liquid passes through the screen as the drum rotates. Processing amount (pounds per hour) is determined by the type of application and the diameter/length of the drum.
LYCO SEALED DRUM SEPARATOR BENEFITS
Easy maintenance – unique, two-way flip top
Easy cleaning – multiple clean-in-place (CIP) systems
Wedge-wire screens bind less compared to perforated plates and
Reduce impurities – solids removal down to 0.020
Explore All of Our Wastewater Screens