EXTERNAL-FLOW SCREEN
THE BEST SCREEN FOR FAT, OILS AND GREASES
The state-of-the-art design of the Lyco External-Flow Screen uses Lyco's advanced technology and precision manufacturing to help our customers improve their operations for further processing plants, or beef and pork harvest plants with a lot of fat or greases.
The externally fed screen fits this application better than internally fed or stationary screens. Each design is built with exacting precision and heavy-duty construction for long life and low maintenance.
Request a Virtual Demo
"Lyco saw a need for a higher performance more reliable Externally Fed Screen for the industry. We spent 6 months traveling the country getting voice of the customer from EFS users and their issues with this type of screen. In addition, we added our 30 years of screening applications knowledge, and created a world class new breed of screen eliminating the issues inherent with the legacy designs out in the field today. After designing and building the prototypes in our State of the Art, Lean Manufacturing facility and 12 months of torcher testing in the worst-case applications, we have accomplished that goal. We know you will be as pleased as we are with the performance and life of this machine given the opportunity."
William Zittel | President



THREE REASONS TO CHOOSE LYCO EXTERNAL-FLOW WASTEWATER SCREENS

Doctor Blade – This helps remove solids from the screen while turning for effective cleaning and to reduce binding.
Wedgewire Screen Construction – Wedgewire is more efficient and less apt to plug than a perforated plate. Openings can vary between .030" to .060".
Headbox with Overflow – In addition to overflow protection, Lyco screens also come with clean-out ports for easier cleaning and inspection.
Questions? Click Here or Call 920-623-4152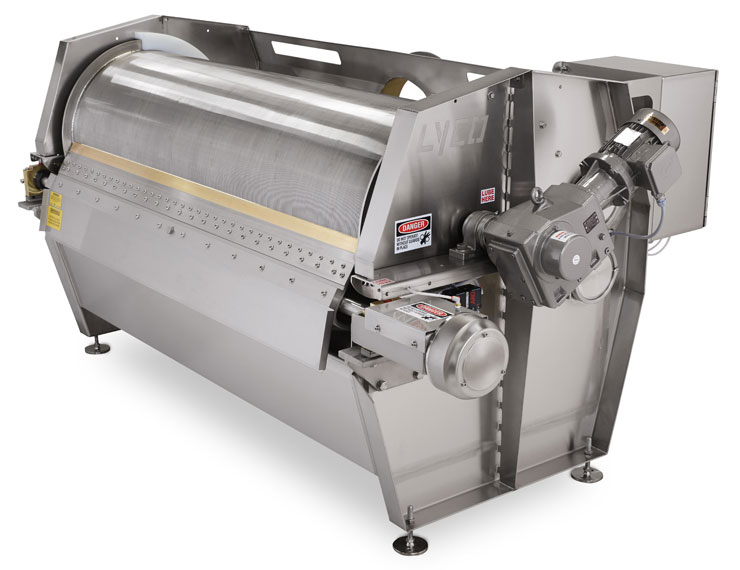 APPLICATIONS OF LYCO'S EXTERNAL-FLOW WASTEWATER SCREEN


BETTER CLEANING, LESS BINDING AND PLUGGING, EASIER INSPECTION
Lyco External-Flow Screens use advanced technologies to improve operations. Lyco has more than 2,200 screens in use in the food and beverage industries. Their rugged, low-maintenance construction is a proven winner for meat, poultry and seafood producers.
External-Flow Detailer
LYCO MANUFACTURING - MADE IN THE USA
Lyco was founded in 1980 by the owner and Chairman of the Board, David R. Zittel, who has had over 50 years experience in food processing. Lyco prides itself in the longevity of its associates and is measured with many decades of experience with food processing machinery. We're located in a community of 5,000 people which is 25 miles northeast of Madison, WI, a perfect area to raise a family.

Lyco's enjoyment and passion is developing the best customer-aligned, innovative food processing machinery in the world.
HOW IT WORKS
1. Raw influent enters the headbox, which distributes water and solids across the screen.
2. As the drum rotates, it pulls solids to the outside of the screen where a blade removes the solids.
3. The water is screened as it passes through, and cascades down the inside of the drum, creating backwash.
4. The backwash, inner spray header, and internal flights work in tandem to self-clean the drum.
SUPERIOR PRODUCTS FOR WASTEWATER HANDLING
THE PROBLEM
Food processors need to find ways to lower BOD, TSS, and TKN, while also reducing their hauling costs and achieving higher recovery.
THE SOLUTION
The Doctor Blade, Wedgewire Screen Construction and Headbox with Over-Flow Protection combine to deliver lower wastewater handling costs and increased product recovery.
• Proven rugged, low-maintenance construction
• Lower BOD, TSS, and TKN with reduced hauling costs and higher recovery
• Uses less chemicals in post-water treatments
• Control panel option for easy startup
• Cleanout ports for easy sanitation
• Continuous internally-reinforced drum for precise roundness
• TEFC variable heavy-duty Nord Gear drive
• Optional solenoid valve
Explore All of Our Screens