CLEAN-FLOW ®
IMPROVES YIELD, CHANGE-OVER TIMES, AND CLEAN-UP TIMES
Clean-Flow® Blanchers were developed in 2007 to address the need for faster sanitation cleanup time so that prepared meal operations could run many different products in a day. Customers say this design is "The best pasta and rice cooker in the world!"
• Increase recovery 10% to 15%, as compared to European cook-quench-chill systems
• Features Hydro-Flow® agitation, which guarantees a uniform process
• Eliminate under and over-cooking of pasta
• Fully automated
Request a Virtual Demo
The Lyco Clean-Flow and Easy-Flow technology has been one of the best investments we have made and has been a major contributor to the success of our business, by taking the quality of our products to a higher level.
Harold Swinkels - Owner | Swinkels Food - Netherlands


LYCO CLEAN-FLOW IS 95% SELF-CLEANING!
Lyco's Clean-Flow is the most sanitary designed cooker, blancher, or cooler in the world.
The unit was designed for RTE standards, and is ideal for low care/high care cooking and cooling solutions.
Clean-Flow is 95% self-cleaning and designed for quick changeovers.
During CIP, a large gear simultaneously rotates the auger, wedge-wire screen, and discharge wheel repeatedly until the system is clean inside and out.
Questions? Click Here or Call 920-623-4152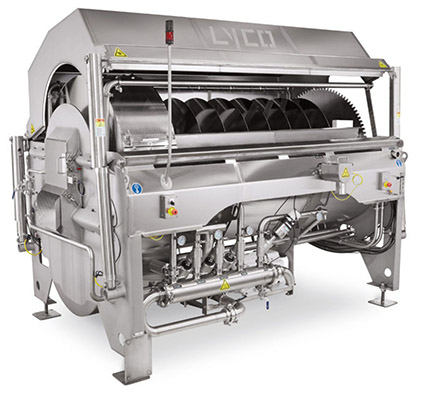 APPLICATIONS OF LYCO'S CLEAN-FLOW BLANCHER/COOKER/COOLER


LYCO CLEAN-FLOW
Clean Flow is the most sanitary designed pasta, rice, and vegetable cooker and cooler for the RTE Processors, these systems allow quick changeovers to be able to run multiple products in a day. Our patented Hydro-Flow® Agitation - is gentle and helps eliminates sticking/clumping, customers are seeing a 10-15% increase in recovery.
LYCO MANUFACTURING - MADE IN THE USA
Lyco was founded in 1980 by the owner and Chairman of the Board, David R. Zittel, who has had over 50 years experience in food processing. Lyco prides itself in the longevity of its associates and is measured with many decades of experience with food processing machinery. We're located in a community of 5,000 people which is 25 miles northeast of Madison, WI, a perfect area to raise a family.

Lyco's enjoyment and passion is developing the best customer-aligned, innovative food processing machinery in the world.
CLUMPING, OVERCOOKING, AND UNDERCOOKING IS COSTING YOU VALUABLE OUTPUT
Lyco's continuous systems can improve recovery by 10 to 15% over kettles and batch cook quench chill basket systems.

• Designed for rapid change-over to accommodate different recipes in the same day
• Features Hydro-Flow® agitation for uniform processing
• Easy-Flow coolers can cool, quench and chill most pasta shapes from 200ºF down to 40ºF in under 30 seconds
• Continuous systems are faster, simpler, easier to clean and produce much higher quality products
SUPERIOR PRODUCTS FOR COOKING AND COOLING
THE PROBLEM
Historically, cooking and cooling of pasta and rice was done in batch cookers with perforated baskets that over-cooked on the outside and under-cooked inside.
THE SOLUTION
Patented Hydro-Flow® is a method of agitation that:
• Uniformly cooks all products
• Eliminates sticking and clumping
• Increases yield by as much as 15%
• Uses much less water to run & clean
Explore All of Our Blanchers