CHILL-FLOW™ POUCH COOLER
Cools Product Twice as Fast
Prior to 1988, most pouch cooling was done on water deluge belts or spiral freezers. Chill-Flow™ Pouch Coolers take the legacy designs of Lyco's blanchers/cookers/coolers (which are used for cooling vegetables) to now cool sauces, pizza sauce, chowders, and soups in many different pouch sizes.
Pouches can be as small as a pack of restaurant ketchup or up to 5-10 pounds. Submerged water cooling is the most efficient and economical method of cooling volumes of pouched food products to the commonly required 40°F. final temperature.
Request a Virtual Demo
"We partnered with Lyco because of its expertise with food processing and, especially, with pouch cooling. Lyco has an R&D facility within its manufacturing plant that allows test runs of a food processor's actual pouched products through its coolers. As engineers, we appreciate the process-specific metrics they are able to provide after running tests. It greatly helps us to optimize systems specific to each company."
Gene Scherr | President



REDUCE BELT COOL TIMES IN HALF WITH GENTLE WATER SUBMERGED HYDRO-FLOW® ACTION
Lyco improves food safety by moving pouched product through the bacterial danger zone of 130°F (54.4°C) to 80°F (26.7°C) twice as fast as conventional belt coolers or static water tank designs. We built and sold the first Lyco pouch cooler over 35 years ago, and it is still running reliably every day.
The open throat water-cushioned entry design of the Chill-FlowTM safely handles the pouches while being cooled. As they proceed through the rotary drum cooler, the pouches are totally submersed in water, then gently stirred and massaged using proprietary Hydro-Flow® technology. Larger pouches exit the machine via a belt and smaller ones through a discharge chute.
Questions? Click Here or Call 920-623-4152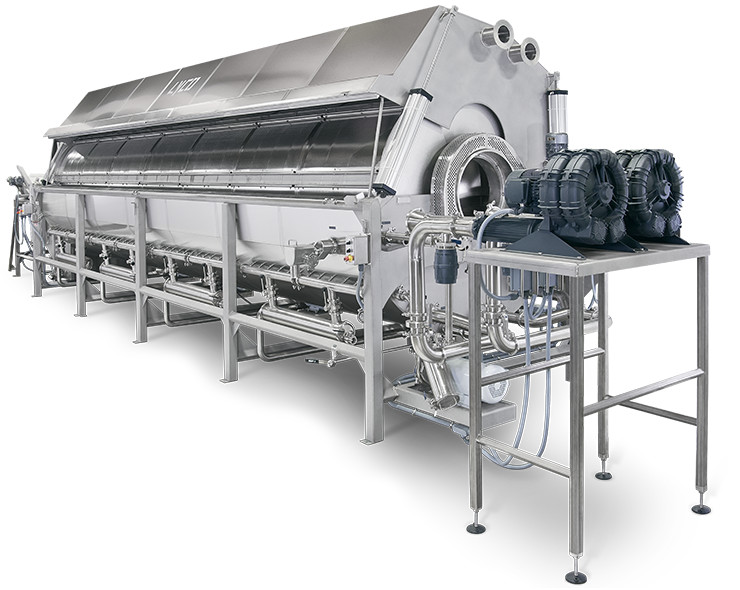 APPLICATIONS OF LYCO'S CHILL-FLOW POUCH COOLER


LYCO MANUFACTURING - MADE IN THE USA
Lyco was founded in 1980 by the owner and Chairman of the Board, David R. Zittel, who has had over 50 years experience in food processing. Lyco prides itself in the longevity of its associates and is measured with many decades of experience with food processing machinery. We're located in a community of 5,000 people which is 25 miles northeast of Madison, WI, a perfect area to raise a family.

Lyco's enjoyment and passion is developing the best customer-aligned, innovative food processing machinery in the world.
LYCO'S CHILL-FLOW COOLER REDUCES TIME IN THE "DANGER ZONE"
The Food Safety & Inspections Service of the U.S. Department of Agriculture states that "Excessive dwell time in the range of 130°F (54.4°C) to 80°F (26.7°C) is especially hazardous. Cooling between these temperature control points should be as rapid as possible."
SUPERIOR DESIGNS PROVIDE SAFER COOLING
THE BENEFITS
Gentle Hydro-Flow water agitation helps you reach 40°F in less time and in less space than traditional coolers.
Eliminates pouch/product damage
Infinite package configurations
Cools to package center core
Improves quality and shelf life
Almost zero maintenance
Uses less energy than other systems
Sanitary, cleanable designs
Conserves water
Requires half the floor space
Explore All of Our Coolers