ICEBERG COOLER
RAPID, HIGH-CAPACITY PARTICULATE FOOD COOLER
This 6′ x 6′ square, 8′ tall, 30,000 PPH cooler pre-cools vegetables, pasta, and rice ahead of a freezer to dramatically lower freezer operational costs in seconds.
Request a Virtual Demo
SINGLE STAGE OR MULTIPLE STAGE COOLING
You can add a second or third machine to the Single Stage cooler shown to bring many products down to 40 F in less than 30 seconds. Products can be cooled from 200ºF/94ºC to 40ºF/4ºC as shown.
Questions? Click Here or Call 920-623-4152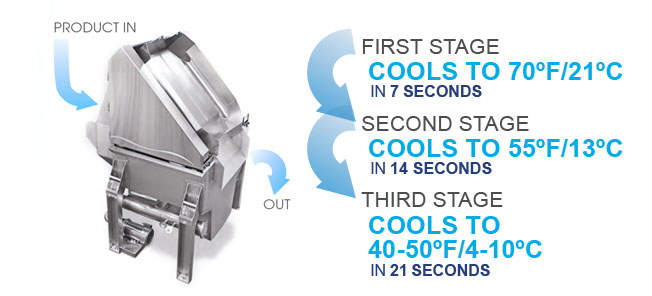 APPLICATIONS FOR LYCO'S ICEBERG COOLER


LYCO'S ICEBERG COOLER - RAPID, HIGH-CAPACITY PARTICULATE COOLER
Process a wide variety of foods from pasta and dry beans to vegetables within a compact footprint — only 6 feet x 6 feet x 8 feet tall. Pre-cools in seconds ahead of freezing. The Iceberg works on all particulate foods and can handle up to 30,000 pounds per hour.
Iceberg Cooler Detailer
LYCO MANUFACTURING - MADE IN THE USA
Lyco was founded in 1980 by the owner and Chairman of the Board, David R. Zittel, who has had over 50 years experience in food processing. Lyco prides itself in the longevity of its associates and is measured with many decades of experience with food processing machinery. We're located in a community of 5,000 people which is 25 miles northeast of Madison, WI, a perfect area to raise a family.

Lyco's enjoyment and passion is developing the best customer-aligned, innovative food processing machinery in the world.
DROP IT LIKE IT'S HOT
Up to 30,000 pounds per hour (PPH) of product can be conveyed into the Iceberg in-feed and carried to the top of the sloped wedge-wire screen. As it mixes with water in transit, heat is efficiently pulled out of the product.
LYCO ICEBERG COOLER BENEFITS
Compact – 6′ x 6′ x 8′ tall
Flexible – Works on all particulate foods
Fast – Pre-cool in seconds before freezing
Efficient – Reuse heat from cooling elsewhere
Practical – Use ambient city or well water
Economical – Reduce water usage by adding a chiller
Questions? Click Here or Call 920-623-4152