SANITARY ZERO MAINTENANCE SCREEN
LYCO'S PATENTED UNIQUE MAINTENANCE-FREE DESIGN
Lyco Manufacturing has over 50 years of experience making machinery for the food industry, and we are known for making the most robust rotary screens in the industry. Our design knowledge guarantees the most efficient and rugged solid/liquids separation screens in the food industry.
• Sanitary Zero Maintenance Screen design eliminates trunnion wheels and bearings
• Zero-maintenance eliminates daily lubricating process
• Lyco has sold more than 2,200 different screens in North America
Request a Virtual Demo
"The screen was designed to eliminate trunnion wheels and bearings. It rotates on oil-impregnated bushings, removing the need for routine bearing lubrication."
Matt Shoup | VP Operations



LYCO'S SANITARY ZERO MAINTENANCE SCREEN HAS THE LOWEST MAINTENANCE COSTS
The Sanitary Zero Maintenance Screen eliminates trunnion wheels and bearings for a maintenance-free design.
Questions? Click Here or Call 920-623-4152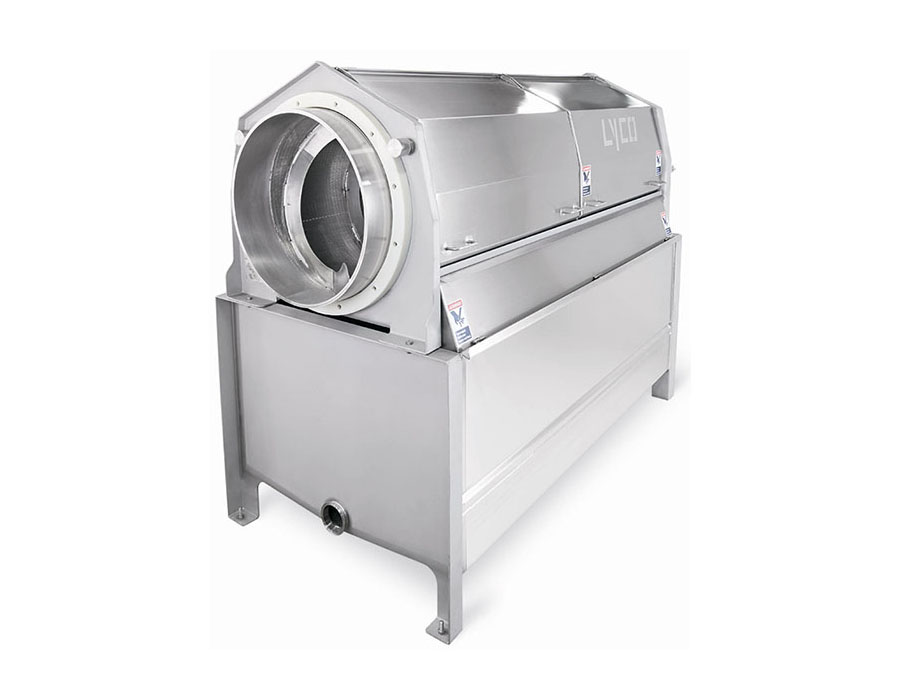 APPLICATIONS OF LYCO'S SANITARY ZERO MAINTENANCE SCREEN


LYCO SANITARY ZERO MAINTENANCE SCREEN
Sanitary Zero Maintenance Screens feature covers that open for full access, Clean-In-Place system with spray balls, and rapid-change dual canister filters with automated purging. Systems are available for 50 gpm – 400 gpm.
Sanitary Zero Maintenance Screen Detailer
LYCO MANUFACTURING - MADE IN THE USA
Lyco was founded in 1980 by the owner and Chairman of the Board, David R. Zittel, who has had over 50 years experience in food processing. Lyco prides itself in the longevity of its associates and is measured with many decades of experience with food processing machinery. We're located in a community of 5,000 people which is 25 miles northeast of Madison, WI, a perfect area to raise a family.

Lyco's enjoyment and passion is developing the best customer-aligned, innovative food processing machinery in the world.
THE MOST SANITARY ROTARY DRUM SCREEN IN NORTH AMERICA
Units available in 15in. and 24 in. diameters and up to 72 in. long. Capacities range from 50-400 GPM.

• Clean-in-Place System with Spray Balls
• Thermoplastic Discharge Bearing
• Side Opening Doors
• Standoffs eliminate hidden surfaces
• Simple Reliable Drive
SIMPLE SCREEN AND UNIBODY DESIGN PROVIDES LONG-LASTING, TROUBLE-FREE MAINTENANCE
• Saves labor costs thanks to the thermoplastic main bearings eliminate lubricants.
• Clean-in-Place systems stop blinding, reduces level of solids, fats, oils, BOD and TSS
• Lowers chemical usage in post water treatment for cleaner discharge
• Cuts industrial waste and creates a secondary revenue stream
Explore All of Our Wastewater Screens