Sanitary Zero Maintenance Screen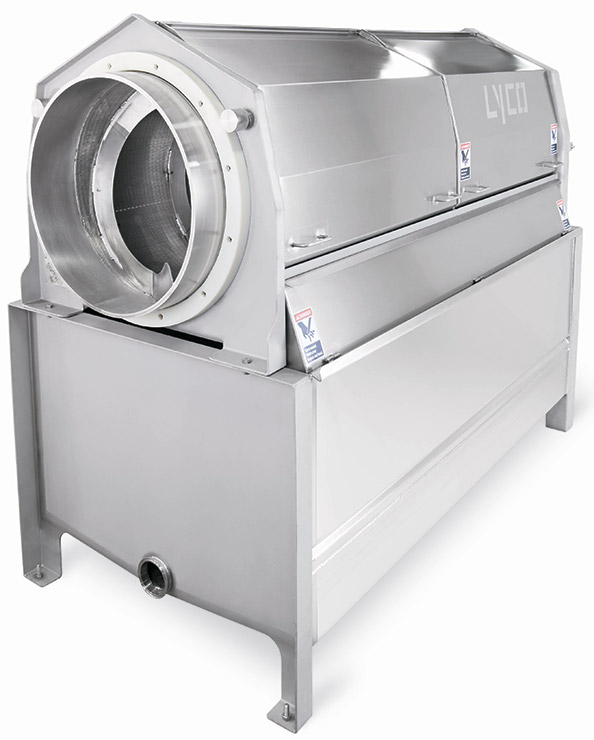 UNIQUE MAINTENANCE-FREE DESIGN
Lyco Manufacturing takes reliability to the next level with its Sanitary Zero Maintenance Screen design, eliminating trunnion wheels and bearings. The maintenance-free design removes the need for routine lubrication of the bearings. Lyco is known for making the most robust rotary screens in the industry.  As with any machinery, chain and sprocket drive systems still require routine lubrication to ensure optimal performance.
Suggested Applications
◀
▶
How it Works
The Sanitary Zero Maintenance Screen revolutionizes the screening process by eliminating trunnion wheels and bearings for a maintenance-free design. Effluent enters the drum and as the drum rotates, the suspended particles first are fed into the inner drum, which screens down to .080 inches. Then smaller particles pass through to the finer .020 inch outer screen. Removing larger particles first makes finer particle removal more effective. Major solids then exit the drum.
Benefits
Simple screen and unibody design for long-lasting, trouble-free unit
Cleaner discharge
Saves labor costs
Thermoplastic main bearings eliminate lubricants
Clean-in-Place systems stop blinding
Reduces level of solids, fats, oils, BOD and TSS
Lowers chemical usage in post water treatment
Cuts industrial waste and creates a secondary revenue stream
Features
2 - 6 in. (15.24 cm) active filters
Wedgewire screen, round hole perforation, and wire mesh screen options
.010 in. (.25 mm) to .030 in. (.76 mm) screen openings
Rapid filter change options
Auto pressure purge option
Change plugged filters on the fly
PLC controls optional