EASY-FLOW COOLER
HIGH-SPEED PARTICULATE COOLING IN 7-21 SECONDS
Traditionally, pasta product can take 12 minutes to cook, and up to 6 minutes to cool to 40°F. The Lyco Easy-Flow Cooler is available in 1, 2, 3, or 4 stages. Each zone submerges and mixes product in cold well water (55°F.) or chilled (33°F.) water where it removes heat. The first stage can cool most products from 200°F to 70°F in under 10 seconds. A second stage cools product to 55°F, and the third stage brings product temperature down to 40°F or below.
• Gentle agitation removes heat quickly
• Ideal for pasta and rice up to 5,000 pound per hour (PPH)
• Removable wedge-wire dewatering sections
• Open, sanitary, easy-to-clean design
Request a Virtual Demo
"Easy-Flow uses a high level of surface turbulence around the product to significantly reduce the convection coefficient so that you achieve a very rapid heat transfer between the water and the product.

This happens at a very quick pace, so it really stops the cooking of pasta, rice, and quickly cools any fairly discrete reasonably tough food product. Where it might take three or four minutes to cool cooked product from 200°F to 40°F with the best conventional systems, the Easy-Flow cooler can do it in 21 seconds for most products."
Dan Maupin | Director of R&D Engineering



LYCO'S EASY-FLOW BENEFITS:
• Dramatically decreases cooling times in a small footprint
• Consistent, uniform results for pasta, rice and vegetables
• Stage one water can be used as a quench zone. This water can be pumped back to the cooker, which reduces energy costs.
Questions? Click Here or Call 920-623-4152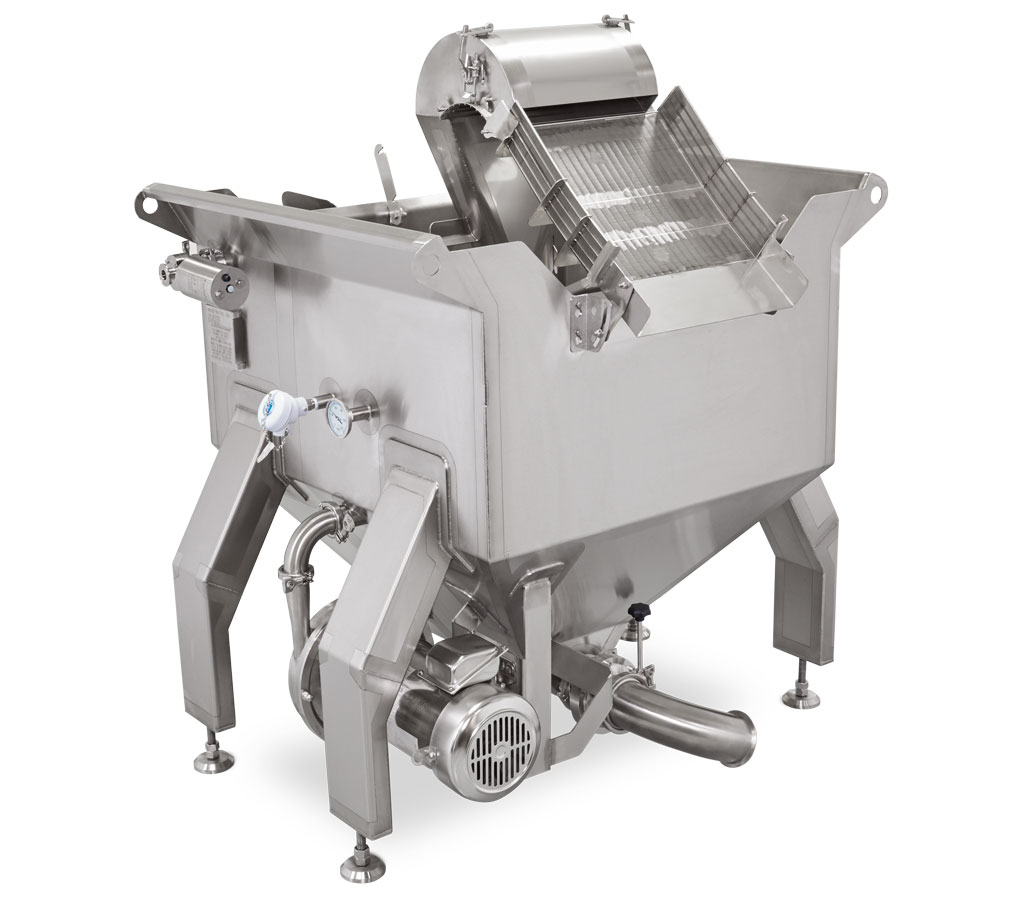 APPLICATIONS FOR LYCO'S EASY-FLOW ULTRA-FAST COOLER


EASY-FLOW - THE HIGH-SPEED PARTICULATE COOLER
Lyco has revolutionized cooling particulate food items with a new design called Easy-Flow™ cooler.
Cooker-Cooler Case Study
LYCO MANUFACTURING - MADE IN THE USA
Lyco was founded in 1980 by the owner and Chairman of the Board, David R. Zittel, who has had over 50 years experience in food processing. Lyco prides itself in the longevity of its associates and is measured with many decades of experience with food processing machinery. We're located in a community of 5,000 people which is 25 miles northeast of Madison, WI, a perfect area to raise a family.

Lyco's enjoyment and passion is developing the best customer-aligned, innovative food processing machinery in the world.
HOW DO WE COOL SO QUICKLY?
Product enters the cooler in-feed hopper at temperatures between 180°F and 200°F. It is pulled into a damage free venturi action water plenum and mixed with cold water where the heat is removed. It then travels up to a dewatering screen before it moves to the second and third stage of cooling where more heat is progressively removed. One stage of cooling may be used to "stop the cook." After the three stages of cooling, most products like pasta, rice or vegetables cool down to a final temperature of 40°F in under 30 seconds.
COOL PASTA, RICE AND VEGETABLES IN 7 SECONDS
The Easy-Flow cooler uses gentle patented venturi action water plenum that pulls products into a hopper where it is mixed into cold or 33°F (1°C) chilled water.
• One stage cooler with chilled water cools 200°F (94°C) product to 70°F (21°C) in 7 seconds.
• Two coolers in the series will cool product to 55°F (13°C) in 14 seconds.
• Three coolers in the series will cool product to 40°F-50°F (4°C-10°C) in 21 seconds.
Questions? Click Here or Call 920-623-4152