SOUS VIDE PROCESSING MACHINERY
ACHIEVE UNIFORM, HANDS-OFF COOKING IN HALF THE TIME
Sous Vide cooking uses precise temperature control to deliver consistent, restaurant-quality results. High-end restaurants have been using sous vide cooking for years to cook food to their desired taste and texture. Lyco's sous vide equipment produces perfect results every time.
• Continuous first in and first out
• Product is controlled in water within + or - 2°F for uniform cooking and cooling
• With Lyco's patented Hydro-Flow agitation process, the product is gently agitated to ensure each pouch is fully and uniformly cooked and cooled
• Cooling times are reduced by 40% to 50%, which is a massive improvement in food safety and productivity
• Lyco's pouch drying system dries packages ahead of online case packing for shipment
• Safer cooking and cooling for meat, poultry and seafood
Questions? Click Here or Call 920-623-4152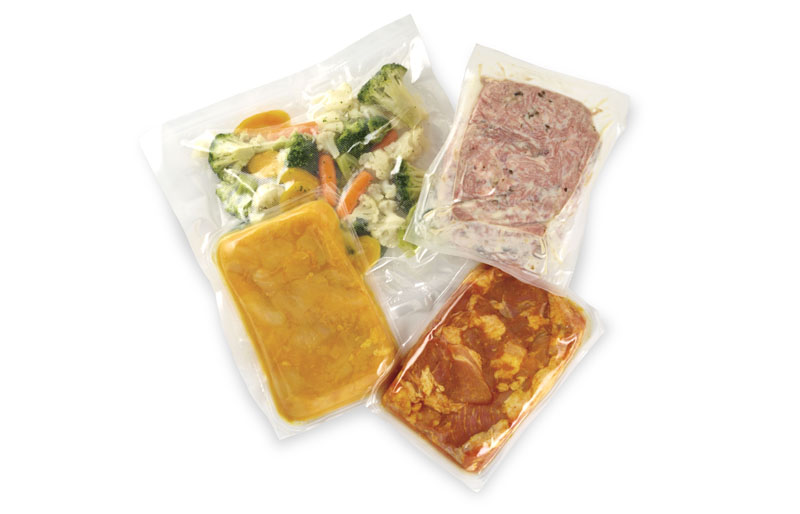 "Our entire line for processing sous vide small-portion proteins has been completely streamlined with the addition of the Lyco rotary-drum cooker-cooler. The system has provided an immediate bottom line benefit to our sous vide operations."
Valued Lyco Customer

A SOLUTION FOR EVERY SOUS VIDE COOKING AND COOLING NEED
Lyco has been cooking and cooling refried beans, soups, chowders, pizza sauce, condiments, mashed potatoes, rice, vegetables and meats with sous vide since 1988. With recent Sous Vide growth, Lyco has been instrumental in helping our customers develop the perfect Sous Vide recipe in our lab.
LYCO SOUS-VIDE COOKING DELIVERS:
• Consistent results
• Tender product with better texture
• Minimal loss of moisture and weight
• Preservation of flavor
Sous-Vide
SOUS VIDE COOKING IS GROWING AT AN ESTIMATED RATE OF OVER 25% IN THE NEXT 5 YEARS
Sous vide, which means "under vacuum" in French, refers to the process of vacuum-sealing food in a bag, then cooking it to a very precise temperature in a water bath. Lyco can help you develop your Sous Vide recipes with Lyco's state of the art process development lab. Here's why:
• Pouches enter and exit the cylinder first-in, first-out
• Patented Hydro-Flow agitation system gently stirs the pouches, which ensures accurate and uniform results
• Our Sous Vide Coolers are more efficient than belts and static cooling tanks of water
LYCO'S SOUS VIDE PROCESS REDUCES TIME IN THE BACTERIAL "DANGER ZONE"
The Food Safety & Inspections Service of the U.S. Department of Agriculture states that "excessive dwell time in the range of 130°F (54.4°C) to 80°F (26.7°C) is especially hazardous… cooling between these temperature control points should be as rapid as possible.

Lyco also has test units called "Simulators," which accurately develops times and temperatures for heating or cooling raw or pouched products. These Simulators are on skid packages, which can be sent to your facility with a technician for in-house testing.

SAFER COOKING AND COOLING FOR MEAT, POULTRY AND SEAFOOD USED IN PREPACKAGED MEALS
Lyco provides some of the industry's most innovative, rugged machine designs – all guaranteed to heat and cool for maximized quality and safety:
• Be better prepared as prepackaged meal components and ready-to-eat options continue to drive the category
• Help meat, poultry and seafood processors deal with the growing labor shortages
• Meet new cooking and cooling guidelines for meat and poultry processing and ways to prevent Salmonella
• Keep up with growing demand for processed poultry products
Lyco provides the perfect combination of industry knowledge and processing flexibility to deliver the insight and automation food manufacturers need to remain safe and competitive.
Questions? Click Here or Call 920-623-4152