DOUBLE DRUM WASTEWATER SCREEN
SCREEN TWICE WITH ONE MACHINE
Most wastewater streams contain both large solids and fine sand-like particles. Being able to remove both items in one pass dramatically reduces the volume of solids that end up in municipal or private waste sewage systems.
Processors can gain significant savings with Lyco's Double Drum Screen two-in-one screening system – reducing industrial waste and increasing product recovery. Operators save space, costs and time by eliminating the need for two single-stage screens.
The Double Drum screen combines .080″ primary and .020″ secondary screening into one machine. Smaller particles are separated from larger items in the .080" inner drum. This reduces the load on the .020" outer drum and makes it more efficient.
Effective for poultry, vegetables, potatoes, fruit or snack food processing, the Double Drum screen offers durable, rugged construction and an established reputation for efficient, reliable use. Longtime users call it the best wastewater screen in the world!
Request a Virtual Demo
"A lot of other screen designs let material go through because they don't have the ability to manage it, particularly when it gets into high volume quantities of material going through. This is not the case with the Lyco Double Drum. It can handle anything we put through it, regardless of the GPM (gallons per minute) or particulate load."

"I have been around a lot of screens used in the poultry industry and have experienced their external and internal problems firsthand. I look for screening equipment that is heavy duty, durable, engineered to be user friendly, tool friendly and mechanic friendly. I want to be able to set it up and have it run with minimal maintenance. We have literally loaded the Double Drum with thousands of pounds of product at different times and it has performed without any problems. Our need has been to get our heavily laden particulate out of the wastewater before we discharge it to the municipal system. The Lyco screen manages that for us, particularly with TSS, which ultimately returns thousands of dollars back to us each month."
Mike DeVries | Plant Engineer



LYCO DOUBLE DRUM WASTEWATER SCREEN BENEFITS
• Efficient, proprietary design; only two-in-one screen system available – less machinery means reduced maintenance
• Reduced levels of fats, oils and solids – separates virtually all solids and particles to 0.020
• Reduced concentration of Biochemical Oxygen Demand (BOD) and Total Suspended Solids (TSS) in wastewater – meet effluent discharge requirements
• Reduced water requirements and improved cleaning with Lyco's patented Traveling Spray clean-in-place (CIP) option – lower water consumption compared to spray headers
• Self-cleaning, wedge-wire screens – less apt to plug versus perforated screens
• Reduce chemical usage in post-water treatment
• 5/8" centrifugal cast stainless steel cast running ring comes with a "Lifetime Warranty"
• Lyco's patented "Smart Monitoring System" helps avoid trunnion failures
Questions? Click Here or Call 920-623-4152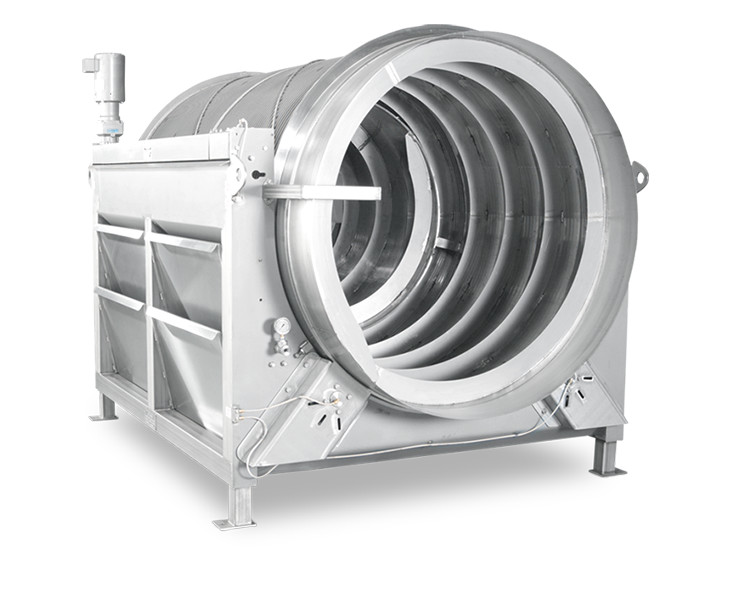 APPLICATIONS OF LYCO'S DOUBLE DRUM WASTEWATER SCREEN


LYCO MANUFACTURING - MADE IN THE USA
Lyco was founded in 1980 by the owner and Chairman of the Board, David R. Zittel, who has had over 50 years experience in food processing. Lyco prides itself in the longevity of its associates and is measured with many decades of experience with food processing machinery. We're located in a community of 5,000 people which is 25 miles northeast of Madison, WI, a perfect area to raise a family.

Lyco's enjoyment and passion is developing the best customer-aligned, innovative food processing machinery in the world.
REDUCE CONCENTRATION OF BOD, TSS, AND TKN IN WASTEWATER
Wastewater treatment costs are going up, but not just the treatment itself. Potential municipal costs or fines can be imposed for BOD, TSS and TKN.

From poultry rendering, slaughter and dog food to bean, tuber and vegetable processing and everything in between, Lyco Manufacturing offers a full line of wastewater screens for a broad range of applications that can reduce BOD, TSS & TKN levels to meet effluent discharge requirements.
QUALITY MANUFACTURING = QUALITY RESULTS
LYCO'S 80,000 SQUARE FOOT PLANT PROVIDES PRECISION MANUFACTURING
We have the latest high-speed lasers, punch presses, robotic welders and precision brake presses. We maintain a meticulousness Quality Control Laboratory and our Lean Manufacturing Operation is second-to-none.
WEDGEWIRE SCREEN CONSTRUCTION USED IN ALL OF SCREENS
Wedgewire is more structurally sound than perforated sheet metal and is less apt to plug since the space between the wires increases after passing through the narrowest point.
WEDGEWIRE SCREENS ARE EASIER TO CLEAR WITH PATENTED TRAVELING WATER SPRAY
Intermittently running one spray can reduce water usage through a nozzle sized for 10 GPM. This equates to considerable savings versus utilizing multiple nozzles in a stationary manifold.
Explore All of Our Screens