Visit Us at the MWFPA Annual Convention
Lyco Featured in Portage Daily Register Article
Lyco was recently featured in an article in the Portage Daily Register. Dawn's Foods is expanding with the help of new Lyco equipment. We love being part of the continued growth and success of each of our clients.
Water Reuse System

Lyco's Water Reuse System can save money, cut cleaning and maintenance time, and reduce consumption of water resources — up to 15 million gallons per year. This revolutionary system removes suspended solids and reuses water from any slaughter process — poultry or red meat — and returns this water back to the main process. The system's small footprint makes it ideal for many water reuse applications. A 200 GPM saving can return more than $150,000 a year.
New Sanitary Zero Maintenance Screens feature covers that open for full access, Clean-In-Place system with spray balls and rapid-change dual canister filters with automated purging.
Systems are available for 50 gpm – 400 gpm.
Clean-Flow Blanchers®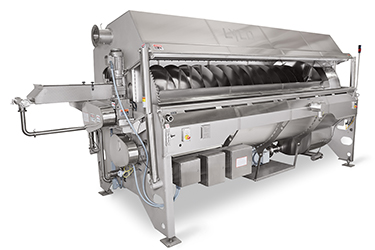 Clean-Flow® Blanchers / Cookers came to market in 2007 and they are called that because depending upon the product they run, they are cleaned-up in minutes compared to the many hours for competitive designs. This allows faster change-over.
They are called "The best pasta, rice and vegetable cookers in the world!" because they contain patented water agitation that breaks up heavy dense loads of product and keeps them separated and suspended in motion so each particle of food is treated exactly the same way.
Spaghetti to filled pastas are uniformly and thoroughly cooked. Sticking and clumping are totally eliminated which increases yield by as much 10-15% compared batch cook-quench-chill systems or older rotary drum blancher designs. They are used in our continuous (not batch) Cook / Quench / Chill system which is far superior to batch systems.
Clean-Flow® Blanchers save labor, water, energy and reduce maintenance cost to nearly zero — after years of running.
We make 30″, 40″, 50″ and 60″ diameter models. CONTACT US to run your products in our Laboratory and we'll show you what perfect quality looks like!
Continuous Pressure-Flow® Cooker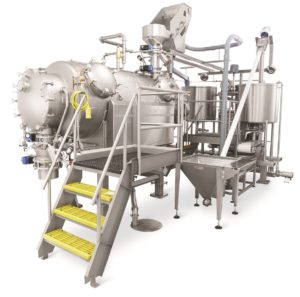 In 2017 we installed a CONTINUOUS PRESSURE-FLOW® COOKER operating system in our laboratory. It includes: A Feed Conveyor, Soak Tanks, Dewatering Belt, Pump Line, a Screen, a 30″ Pressure Cooker and a Vibrating Dewatering unit (not shown).
We have run hundreds of successful tests on dry beans, rice and more. Every food processor who has seen the line run has been very impressed. One called it a "GAME CHANGER that will be the way we process dry beans in the future."
Dry Beans are pre-soaked for 2 to 4 hours and fed into the Pressure Cooker where they are fully cooked in 6 to 8 minutes. The result is IQF Quality product and retorting is not necessary. A major processing step eliminated for dry beans.
Rice is cooked to perfection in 5 to 8 minutes, is pure white, has the right texture, and holds more starch which increases recovery. Every customer who has seen the process has been impressed.
CONTACT US to run your products in our laboratory and see the dramatic results for yourself.