EZ CLEAN BLANCHER
UPGRADE TO CONTINUOUS COOKING FOR BETTER QUALITY AND IMPROVED PROCESS CONTROL
Lyco's EZ Clean 36 x 8 Blancher is ideal for smaller processors who currently batch cook and want to upgrade to a continuous cooking process. Unlike batch operations, which require draining and filling for heating and cooling, continuous cooking delivers higher yields with less water than kettles used for blanching and cooking.
• Uniform heating improves consistency and product quality
• Starter flight and ending flight ensures first-in, first-out process control
• Minimize overcooking and undercooking – increase recovery 5-10%
• Reduce water and energy usage
Request a Virtual Demo
THE IDEAL BLANCHER FOR SHORT PASTAS, VEGETABLES, POTATOES AND LOW-CAPACITY DRY BEANS
The smaller design of the EZ Clean Blancher makes it an economical choice for processors who want to move to continuous processing to reduce labor, water and energy expenses.
The unit comes standard with 2-way flip top cover. The open design improves sanitation. Unlike the rotary drum cooker-cooler, the auger is open with no skin sheets. When cleaning, the auger can be raised to allow a gap between the auger and tank. Operators can easily flush out particulates at the end of the day or before product changeovers.
The machine's simple design has four trunnion wheels, which minimizes maintenance. The control system uses Allen Bradley PLCs, HMIs and VFDs, which guarantee repeatability improved product quality.
Questions? Click Here or Call 920-623-4152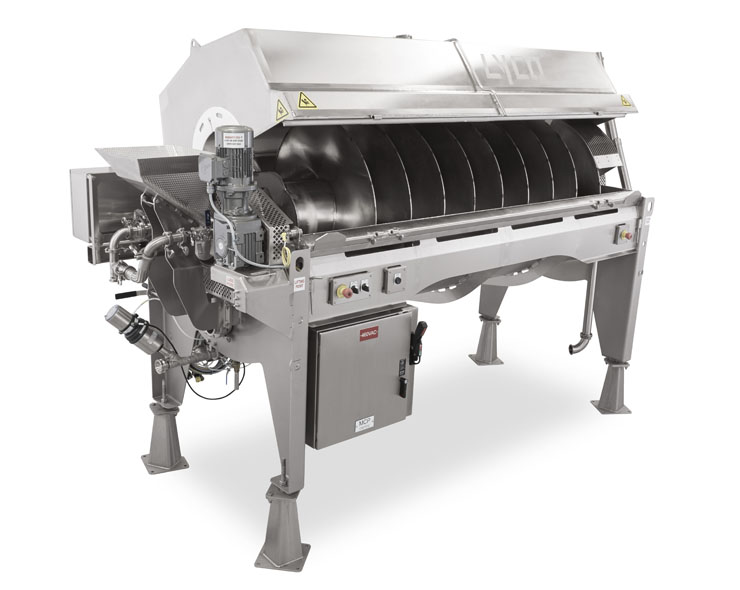 APPLICATIONS OF LYCO'S EZ CLEAN BLANCHER


LYCO EZ CLEAN BLANCHER
Aliquam rhoncus, odio ac mollis ultrices, ligula nisl tempor mi, eu lobortis purus nisi non neque. Donec justo dolor, luctus ac pellentesque at, elementum a erat. Donec ornare felis orci, vitae dignissim mauris laoreet vitae. Nullam et odio lacus. Fusce tempor imperdiet velit, vel placerat diam ornare dapibus. Fusce a metus vitae enim blandit tristique non vel purus. Nunc aliquam tempor eros. Morbi facilisis tristique arcu vehicula varius.
Lyco Potato Processing Machinery
LYCO MANUFACTURING - MADE IN THE USA
Lyco was founded in 1980 by the owner and Chairman of the Board, David R. Zittel, who has had over 50 years experience in food processing. Lyco prides itself in the longevity of its associates and is measured with many decades of experience with food processing machinery. We're located in a community of 5,000 people which is 25 miles northeast of Madison, WI, a perfect area to raise a family.

Lyco's enjoyment and passion is developing the best customer-aligned, innovative food processing machinery in the world.
CONTINUOUS BLANCHING VS. BATCH COOKING
Compared to batch processing, continuous processing offers:
• Better process control – process steps done in order for more consistent results
• Higher volume production – up to 10 times higher
• Less equipment downtime – scale and automate your manufacturing operation
LYCO EZ CLEAN BLANCHER BENEFITS
Higher yields with better quality and consistency
Easier flushing – auger raises off tank floor for
Smaller footprint and low-maintenance design
Improved sanitation and faster, easier changeovers
Less sticking and fewer losses from clumping
Increase recovery 5-10% for pasta
Explore All of Our Blanchers